Hubby is such a goofy person, he loves to joke around and he is just the life of a party. I was browsing through some of our pictures in Facebook and found this one goofy photo of hubby: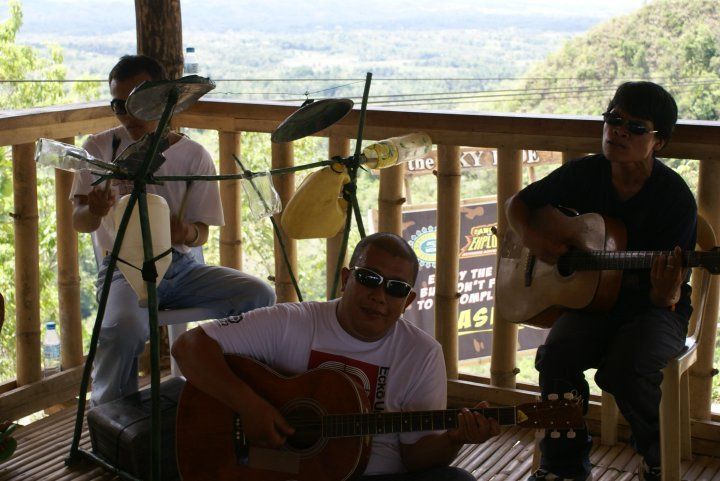 This was at the E.A.T. Danao, an adventure park here in Bohol. We were waiting for our turn to ride the cable car, and the place where we were staying had a "band" and the players were all visually impaired. Since hubby was wearing sunglasses, he took one of the guitars and pretended to be blind! Hahahaha!
Hubby really is so funny and he always makes me laugh and when he's around, you can smile from ear to ear. Hubby starts a good conversation and he has this lines and "sayings" that makes everyone burst into laughter. Before when I used to bring our little boy to school, he would visit me there and when he does, all my other mommy friends would "swarm" him because when he's around, there is always fun and laughter. But of course, hubby has a serious side. When he's in a group of foreigners, he talks with so much sense and he really knows a lot. There is never that "dead air" in conversations with him.
I am really blessed to have him as my hubby. There is no one like him, EVER! So why am I talking about my hubby in the first place, Father's Day is still next month. Well, I just want to honor him in the way that I know, I want to thank God for giving him to me, and though we are in tough and trying times, he still cracks me up! It's his birthday on Tuesday, so just bear with me… I JUST LOVE MY HUBBY SO DEARLY!
A happy post for hubby for the 366 Blog Photo Challenge.
---
6 Responses to "Goofy Hubby"