We have a pet dog and we consider her our first "baby." Well actually, she is our second. When hubby and I were still dating, he bought a German Shepherd and that big dog became our "first baby" and she was with us till we decided to settle down. Unfortunately, we lost that dog, she got sick and died. Then came this "second baby":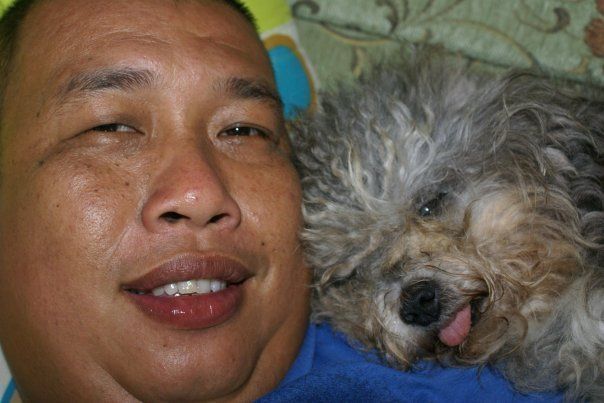 Yaki and hubby… they look so sweet… hehehe
Yaki is a mixed breed dog and don't ask me what kind of breed because I really have no idea… LOL! Hubby's consultant at the hospital gave Yaki to us since she had so many dogs already.
Yaki is by far, the sweetest dog I have ever owned, she thinks she is a human being because she understands our commands…LOL! Hubby loves her so much because she's a stress-buster. Hubby would just continuously rub his feet in Yaki's fur and Yaki however, enjoys the act. Before real babies came to us, she would sleep beside us, I would give her a bath thrice a week. But now that we have two kids, Yaki sleeps outside the house already and guards us while we are sleeping.
We love this dog so much, Baby Job loves to play with her and we are sad that when we leave, she will be waiting for us to come back, but we won't. We have decided to give her to my SIL and that she will take of our Yaki. We hope that we will still see her when we get back a few years from now.
Sharing for BPC!
---
2 Responses to "First "Baby""